Given2 Online Wedding List
the first Wedding List
with no handling fees
A Wedding List to receive cash gifts in an elegant way
Given2 is the made in Italy Online Wedding List for 2.0 couples. It allows you to create a wedding list in order to receive cash gifts into your bank account in an elegant way.

With Given2 no limit is set to your imagination! You can create a wedding list of any kind, ranging from a travel to the washing machine and, you can also add fundraising. Everything with no commision and with any kind of purchase obligation.
Not just a wedding list: the website is ready
The website of your wedding is ready, you can customise it and share it with your guests. It will be a simple communication tool to thank your guests for the received gift!

In case you already have a personal website, no problem, you can easly incorporate the wedding list into your website with the copy & paste function, like you normally do with a YouTube video.
Warum Given2?
Neither middlemen nor handling fees
Gift amounts intended for your wedding list are directly tranferred into your bank account via safe payment methods: bank transfer, cash gift, credit card, or PayPal.
No obligations: add the gift you want to your list right away!
You can choose to receive money or material products from various e-commerce platforms (e.g. Amazon). Your guests will be able to make their gift in the comfort of their home with no time restriction, queue, and above all with no stress.
Thank for the received gifts
You are going to receive live notifications every time a guest gives you a gift, so to thank them right away!
To have full control!
Everything you need is just a few clicks away: whole gifts, gifts divided in portions, messages, maps and photo albums; guest confirmations, stats and e-mail notifications.
How does Given2 work?
3 simple steps to create your online Wedding List and your Website on Given2!
Sign up for free on given2.com and start creating your wedding list.
Choose your website address on given2.us

(simple and free!)

Activate your gift list for just the period you need to receive your gifts.
How much does a Given2 Wedding List cost?
Let's make an example with a 15,000€ wedding list
Creating the wedding website with Given2 is always free, whereas activating the gift receiving service costs 1€ per day. You'll decide how much to pay by freely choosing the activation starting and ending day, according to your wedding date. For example, if you send the wedding invitations two months earlier, the cost will be 60€, all inclusive.
Other online gift lists
Amount of money spent in handling fees
Opinions on Given2
Luigi and Fiorella
The ultimate solution to the wedding list dilemma!
Easy to use, fun and with a clear cost policy.

Franco and Alessandra
After many researches, we finally found what we were looking for: an effective service that really keeps its promises!

Roberto and Michela
We felt closer to the guests because we were able to thank them immediately after receiving the gift.

Paolo and Francesca
A tool whick gives you full control over your event. Thanks to Given2 my guests saved time and money, and so did I!

A wedding list to receive money
In the time of home banking, paypal and online payments, Given2 is the alternative to the traditional money gift given in an envelope. The aim is to receive a gift that is cut out just for you with a wedding list that collects money in an elegant way and let you spend it whenever and the way you want!

Imagine you can create a wedding list to receive only money including both gifts available in stores and the honeymoon trip; not even the imaginary gifts are excluded!On the top of that, you can give your guests the possibility to pay via bank transfer, PayPal or credit card!

Moreover, thanks to both the translation available in 5 languages and the auto currency switcher, even your distant friends and relatives will be easily able to contribute to your happiness ;)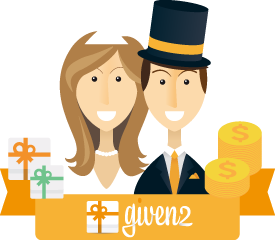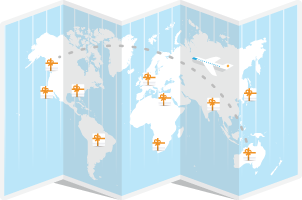 A Wedding list for your honeymoon
More and more couples get married once they already bought everything they need to start their life together, so here are some pieces of advice if you want to create a wedding list for your honeymoon trip.

Your wedding can be a good way to receive as a gift a further emotion that, in addiction to the wedding day itself, will make you live an unforgettable and everlasting experience.

In fact, the wedding list could be wholly dedicated to your honeymoon trip: a relaxing one for the lazybones, or an adventurous one for the sports couples!

Plus, the creation of such list can be fun! You can split your journey into steps and then add them to your registry with a brief description of every activity you plan to do: a nice way to involve your guests, and an extra attention to express your gratitude.

For those of you who don't want to fill in every detail, an option is available to add the whole honeymoon cost in a single entry: it's like a fundraising, but aimed at reaching the amount you budgeted (or maybe a bit more, just in case). Therefore, if you want to go on the perfect honeymoon and travel to your favourite place, Given2 is precisely what you need!
Frequently Asked Questions
How do I receive my gifts?
Is it possible to see an example of the Website and the Gift List?