Given2 Online Baby Registry
an online baby shower gift registry to receive only what you need
An Online Baby Registry to receive gifts and money
Given2 is the baby registry that makes you receive both real gifts and money amounts for your baby's birth directly into your bank account, with no middlemen nor commissions.

The Given2 online baby registry is all you need to welcome and celebrate the birth of your baby in the easiest, safest, and cheapest way!

Just imagine to be able to create a baby registry to receive money but including at the same time both concrete gifts available in shops and invented gifts such as "happiness"; all this is possible, along with the possibility to have your guests pay by credit card, paypal or bank transfer!

Given2 doesn't imply any purchase obligation, and you will always receive the money amount equivalent to the gifts chosen by your friends and relatives, so that you will be able to buy every product when you really need it and at the best price.
Not only a Online Baby Registry: your website is all ready
In addition to the baby registry, Given2 allows you to create a website easy to customize in order to share the happiness of your baby's birth with friends and relatives.

You will also able to communicatewith them and to thank them for the received gifts, plus it can be a nice souvenir to cherish over the time…Who know, maybe one day your kid will be curious about their very special first moments of life!

Your baby's privacy and yours are important to us. Your privacy is safe with us! Only you and your guests will know the web address created with Given2. Every message and photo between you and your guests will enjoy the strictest confidence.
Why choose Given2?
Neither middlemen nor commission fees
Gift amounts intended for your baby shower gift registry are directly tranferred into your bank account via safe payment methods: bank transfer, cash gift, credit card, or PayPal.
No obligations: add the gift you want to your list right away
You can choose to receive money or material products from various e-commerce platforms (e.g. Amazon). Your guests will be able to make their gift in the comfort of their home with no time restriction, queue, and above all with no stress.
Thank for the received gifts
You are going to receive live notifications every time a guest gives you a gift, so to thank them right away!
To have everything under control
An online user-friendly service tailor-made for 2.0 mums, offering total control over your gifts.
How does it work?
3 simple steps to create your online Online Baby Registry and your Website on Given2!
Sign up for free on given2.com and start creating your own baptism gift registry
Choose your website address on given2.me

(simple and free!)

Activate your gift registry just for the period you need to receive your gifts.
What do the mums say about it?
Giulia's Mum
At first I didn't even know what to add to my registry, but with the help of the community I found a lot of useful ideas!

Gabriele's Mum
A very simple service for the 2.0 mums. Plus the website will be a nice souvenir for the years to come

Matteo's Dad
With Given2 I managed to receive gifts that I really wanted and needed, great!

Ilaria's Mum
I chose Given2 because a friend of mine used it a couple of months ago. Everything was fine with it, even the older guests used it!

A baby registry full of useful gifts with no double gifts
Do you want an online baby registry full of real gifts but you don't know which ones? Only Given2 offers you an integrated social network where you can take inspiration from all the gift ideas shared by the other parents.

With Given2, you will have at your disposal a search engine to find online products to add to your list in just one click, avoiding neverending researches on the internet and without even quitting the website.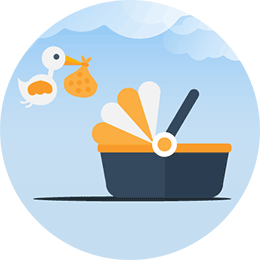 When should I start planning my baby registry? Before, during or after the pregnancy?
In Italy, mums prefer to wait until after three months of pregnancy out of superstition, and they usually create their baby registries between the seventh and the ninth month. However, our advice is to start thinking about it well in advance: you can turn the baby registry planning into a good way to prepare and "accompany" the couple throughout the entire pregnancy. When the new mum checks in to the hospital, everything at home must be ready and done for her coming back home with the newborn child! Even if for luck many relatives suggest that the father-to-be goes shopping for the cradle and the stroller only once the mum enters hospital, we recommend you to accomplish this task before, since a mum in labour will be needing the full support of her partner and the couple will want to focus only on their child and on the very precious moment they are living. Last but not least, it is not recommended to leave the whole nursery furniture shopping for after the pregnancy, since the new mother is often very tired and needs some rest; also, after giving birth she may not feel like spending the whole day going shopping! In conclusion, the sooner the better for everyone, so that the parents-to-be can savor the moment to the full, knowing that everything they need is at their fingertips and they have nothing to worry about.
Frequently Asked Questions
How do I receive my gifts?
Is it possible to see an example of the Website and the Gift List?